The PEK (Peli Evaluation Kit) is an all-in-one solution for you to quickly demonstrate the Peli Lens to your patients and determine if they can benefit from it. Learn more about the PEK on this page. 
Prefer to watch instead of read? Check out our video introducing the PEK.
We've been working with doctors and therapists for over 20 years to help patients with homonymous hemianopia regain as much visual field as possible (while improving their qualify of life).
The Peli Lens has been proven time and again to be the best solution for  helping homonymous hemianopia patients expand their peripheral vision (don't take our word for it – check out the Peli Lens publications page if you want some super in-depth, scientific reading material).
But, we discovered that demonstrating the Peli Lens in-office can be cumbersome.
Why? Because the Peli Lens comes in two lens types and patients are afflicted in either their left or right eye. Up until now, that has required  keeping multiple pairs of glasses or fitovers on hand to use in the demonstrating process.
The other option has been to attach training prisms to the patient's glasses to try them out. The drawback of this approach is that patients do not get the benefit of switching between their normal corrected vision and the training lenses multiple times. Once training prisms are attached to the patient's glasses, that's it. And, training prisms are about 50% weaker than the full-power Peli Lens.
Enter the PEK.
Our PEK is a compact way for your patients to quickly and easily take the Peli Lens for a test run. In addition to being super easy to use, the PEK lets you demonstrate the full-powered Peli Lens in a removable format.
Here's what's included:
The Oblique Lens is suited for patients who need field expansion for driving and mobility
The Horizontal Lens is suited for patients who want improved mobility

Fitover frame

: using 3 magnets embedded into each side of the fitover frame, you can attach either lens to test oblique and horizontal prisms on the right or left eye without requiring your patients to take off their glasses (it also works for patients who don't wear prescription glasses)
Training Prisms Kit lets you practice fitting and training patients for training prisms 
By placing high-powered prisms in a patient's peripheral vision, the Peli Lens expands a homonymous hemianopia patient's visual field and gives them more awareness of their missing peripheral vision.
Increased awareness can lead to a greater ability to avoid collisions and navigate around obstacles. Some patients are even able to drive again with the Peli Lens. 
Helping your patient get the Peli Lens is straightforward and simple. We recommend following the process outlined below for best results. 
Determine Peli Lens is the Solution

: if your patient suffers from stroke-related visual field loss, the Peli Lens will likely help them regain some lost vision

Demonstrate the Peli Lens

: Use the PEK to show your patients the Peli Lens in-office to demonstrate its benefits

Fit Training Prisms

, a cost-effective way for your patients to take the Peli Lens for a test run over a 4-to-6 week trial period

Begin At-Home Training

: during the trial period, routine at-home training has been shown to increase the benefit a patient receives

Order the Full-Power Peli Lens,

which

offer greater field expansion and are far more durable than training prisms
*Our experience has been that deviating from this process results in poorer results for your patients. 🙁
Training prisms are an affordable option for your patients to try before committing to a more permanent and expensive solution.
While training prisms expand visual field, they are meant to be used for a short period (4-to-6 weeks) and do not provide as much field expansion as full-power prisms.
We do not recommend that patients rely on training prisms for long-term use because they will not experience as much benefit as with full-power prisms.
The good news is that 74% of patients who complete the trial period with training prisms wished to continue using the Peli Lens. Proper fitting and training leads to even higher success rates.
Need to order training prism kits? Click here or use the button below. You'll be taken to Tech Optics International, our low vision department, where you can order directly from the website.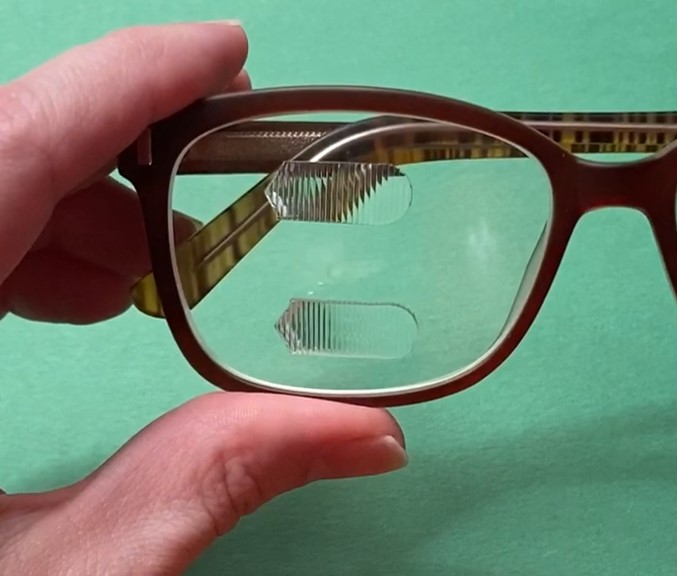 Front view of training prisms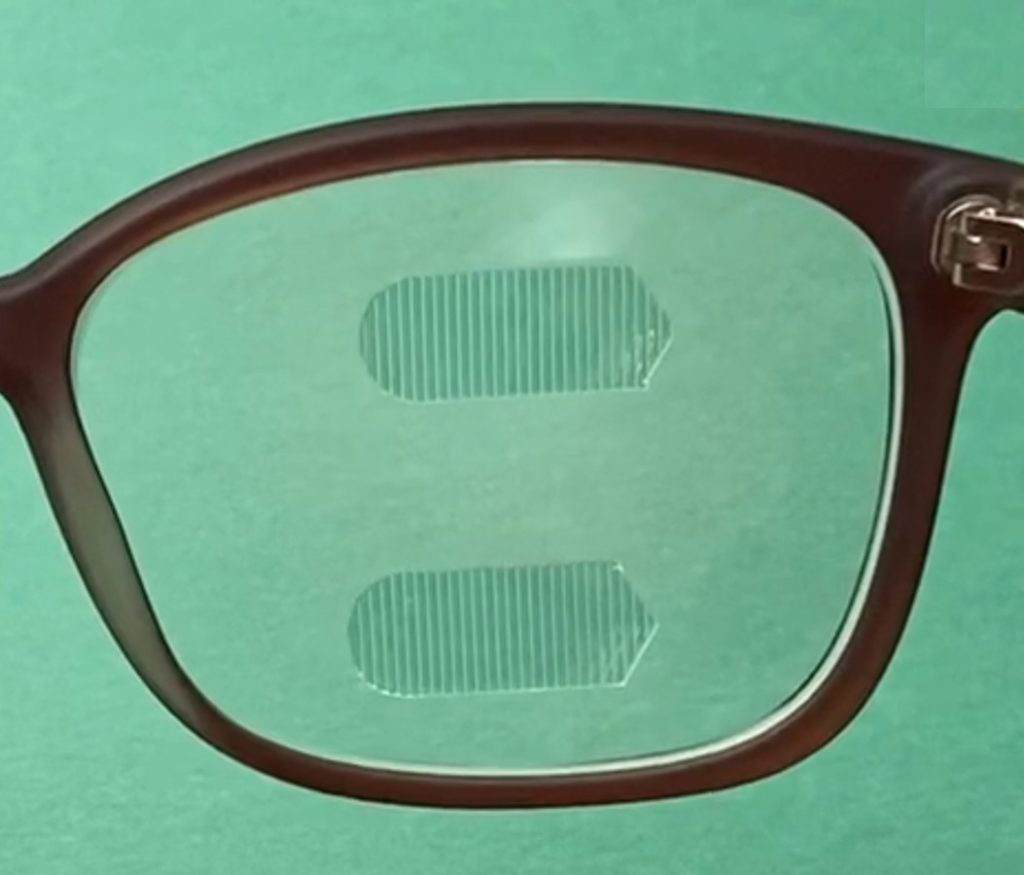 Back view of training prisms
Full Power Peli Lens Prisms
Full-power Peli Lens prisms offer almost double the expansion of training prisms in a highly durable format. And, after working with doctors and patients for over 20 years to find the best possible configuration for full-power prisms, we're happy to introduce the latest breakthrough in Peli Technology: the SLAM (Single Lens Attached by Magnets).
SLAM: Single Lens Attached by Magnets
Using SLAM technology enables us to create a removable lens that can be attached via magnets when your patient needs field expansion and easily taken off when they don't.
The full-power Peli SLAM offers:
Staying Power

: our Peli SLAM solution stays put even when vigorously shaken

Durability

: design to last for years to come, the Peli SLAM is highly durable

Comfort

: a single lens weighs less than all other options, offering maximum comfort

Portability

: At less than the size of a business card, the Peli SLAM lets your patient easily take it with them

Flexibility

: patients can wear the Peli SLAM when they need and remove it when they don't
Best of all? Your patient can continue to use the Peli SLAM even if their prescription changes (provided they retain their original frames). This makes the Peli SLAM a permanent, cost-effective solution for patients in the long run.
We even include a convenient, compact carrying case that easily fits into your patient's pocket or purse. 
Note: While we can install the Peli Lens into multiple frame types, we recommend our Peli Lens using SLAM technology solution for most patients.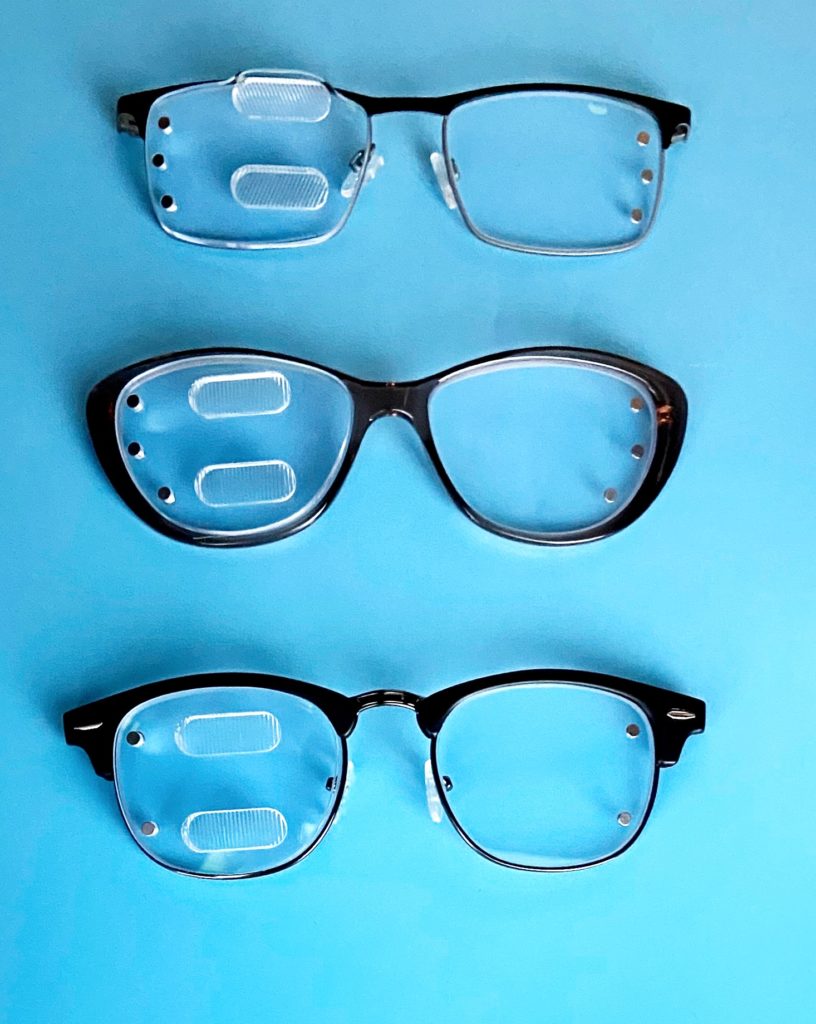 Prescribing the Full-Power Peli Lens
Ready to get the PEK? We've put together everything you need to get your hands on the Peli Evaluation Kit. We call that kismet. Or super effective marketing.
To get the PEK, please click here. You'll be taken to the product page on Tech Optics International, our low-vision division.
Or, if you have any questions, give us a shout. We want to answer them (as long as they're within the realm of optical stuff).