There's a lot of information about the Peli Lens out there – we know because created much of it. As the only optical lab authorized to manufacture the Peli Lens, we want to ensure that you have the resources, tools, and education you need to make sure the Peli Lens is right for your patients and that they can get the most benefit from it.
Can't find what you need? Have a pressing question? Please reach out to us by clicking here. We field patient and doctor inquiries about the Peli Lens every day and are eager to serve you in whatever capacity we can.
Crucial Peli Lens Documents
Downloadable Peli Lens Guide
Our full guide on the Peli Lens contains all the details you need to demonstrate, the Peli Lens to your patients. It's also jam-packed with information on fitting training prisms, encouraging your patients to integrate prisms into their everyday lives, and helping your patients get full-power prisms.
If you're considering the Peli Lens for your patient or need a deep dive into each step of the process, this guide is for you.
A one-page resource that enables you to do a quick lens tracing of training prisms so patients can reattach them.
A printable patient brochure with highlights on how to care for and use training prisms for maximum benefit.
Ready to get your patient full-power prisms? Huzzah! You'll need to use this order form to ensure we get the info needed.
Demonstrating and Training
Demonstrating the Peli Lens
The best way to demonstrate the Peli Lens is using our PEK (Peli Evaluation Kit). We designed our PEK to be a dynamic tool that allows you to test full-powered Peli Lens peripheral prisms on patients suffering from left or right homonymous hemianopia.
The Peli Lens is the only scientifically proven solution for expanding the visual field of patients with homonymous hemianopia. For this reason, we do not recommend presenting other legacy lenses until your patient has finished a 4-to-6 week trial using training prisms.
PEK with Horizontal Prisms
Training with the Peli Lens
When your patients regularly perform the recommended exercises, they're better able to incorporate the Peli Lens into their everyday lives. Routine practice leads to improved locational accuracy and reaction speed, allowing your patients to gain maximum benefit.
A pilot study done at Schepens Eye Research Institute showed patients to be 95% accurate in distinguishing image location after six hours of training.
Patients should practice the following exercises for a minimum of 20 mins a day during their training period:
Turn and Look training helps your patient differentiate between where an object appears versus where it actually is.
Reach and Touch training helps improve hand-eye coordination.  
Walking enables patients to learn how to use the Peli Lens for its primary function: mobility.
Get the PEK (Peli Evaluation Kit)
We keep referring to this magical thing called the PEK – if you're wondering what it is (and you're a doctor or vision specialist who helps people with visual field loss), you need this in your life! 
The PEK is a compact way for your patients to quickly and easily take the Peli Lens for a test run. With the PEK, you can perform a subjective assessment on your patients so they can see the before and after effects of the Peli Lens. Using a modern fitover and two lenses attached by magnets enables you to test horizontal or oblique peripheral prisms on either eye.
Ready to get your hands on the PEK? Cool! Just click here or use the button below.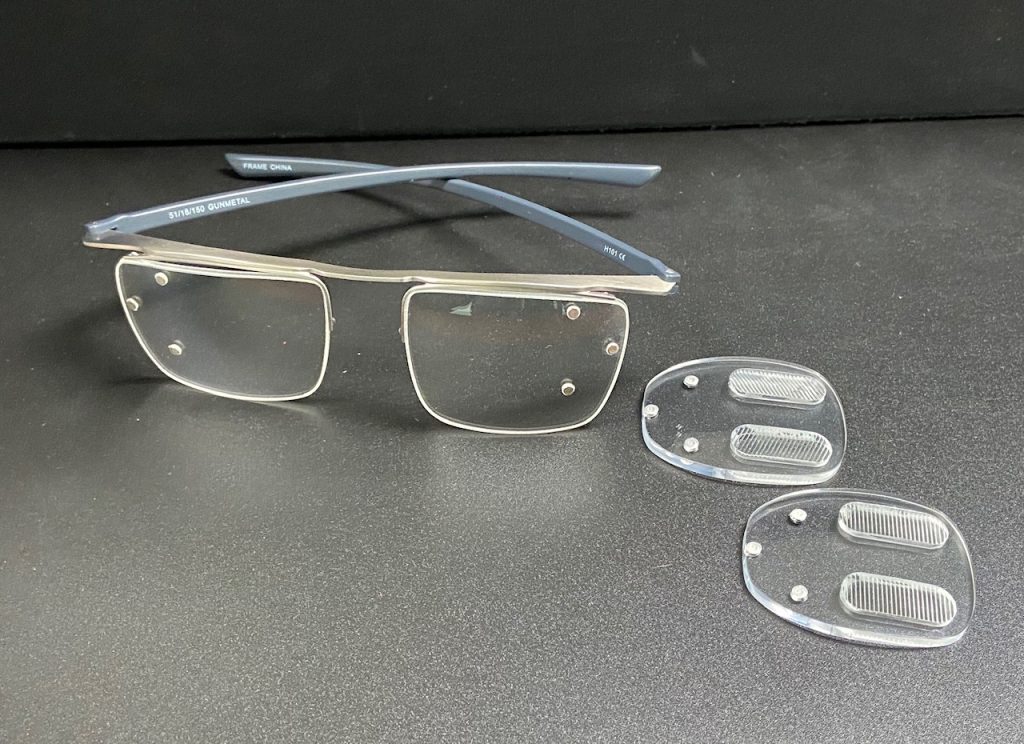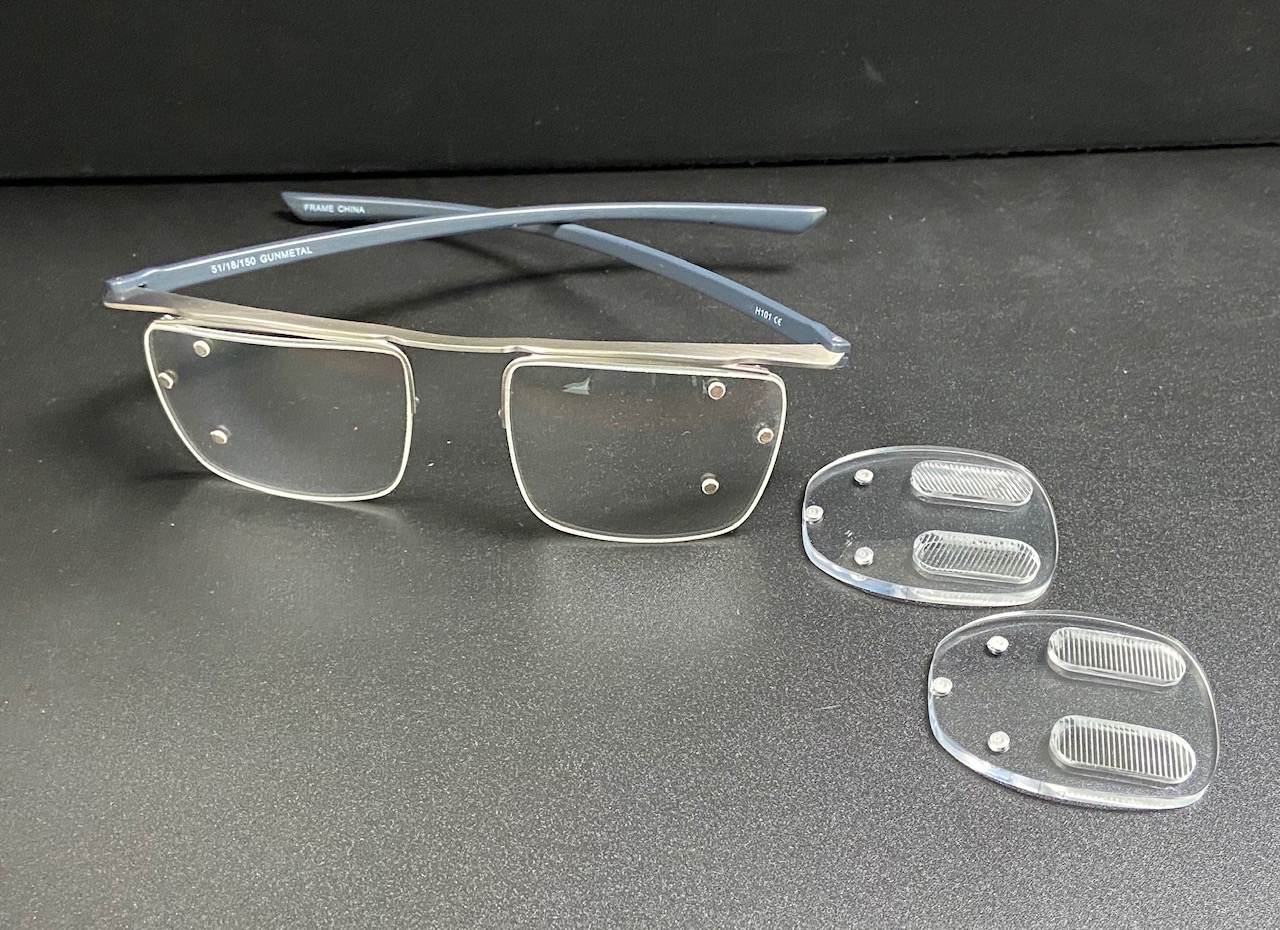 Get Full-Power Peli Lens Prisms for Your Patient
Full-power Peli Lens prisms offer almost double the expansion of training prisms in a highly durable format. And, after working with doctors and patients for over 20 years to find the best possible configuration for full-power prisms, we're happy to introduce the latest breakthrough in Peli Technology: the SLAM (Single Lens Attached by Magnets).
Using SLAM technology enables us to create a removable lens that can be attached via magnets when your patient needs field expansion and easily taken off when they don't.
The full-power Peli SLAM offers:
Staying Power: our Peli SLAM solution stays put even when vigorously shaken
Durability: design to last for years to come, the Peli SLAM is highly durable
Comfort: a single lens weighs less than all other options, offering maximum comfort
Portability: At less than the size of a business card, the Peli SLAM lets your patient easily take it with them
Flexibility: patients can wear the Peli SLAM when they need and remove it when they don't
Best of all? Your patient can continue to use the Peli SLAM even if their prescription changes (provided they retain their original frames). This makes the Peli SLAM a permanent, cost-effective solution for patients in the long run.
Note: While we can install the Peli Lens into multiple frame types, we recommend our Peli Lens using SLAM technology solution for most patients.
Peli Lens Using SLAM Technology Gallery
Ready to Help Your Patient Get the Full-Power Peli SLAM?
Links to Important Peli Lens Resources
We've gathered links to the pages about the Peli Lens you might need. Did we miss something? Let us know! We're more than happy to create a new resource or walk you through any part of the process of getting the Peli Lens for your patient.
Peli Lens Frequently Asked Questions