In the realm of lens tinting and optical coating, Chadwick doesn't follow, we lead. After tinting more than 200,000 lenses (which sounds more impressive than 100,000 pairs of lenses) in nearly every hue imaginable, we're itching to help you get the right tint on your patient's face.
If you want to skip the stuff about our tinting process (which is super interesting to us but maybe not so interesting to you) and get straight to selecting the right tint for your patient, click here to visit our tint library.
Otherwise, spend a little time with us as we explore the magic of lens tinting.
Over the years, we've refined our lens tinting process into a well-oiled method that enables us to achieve nearly any desired effect – including some super cool stuff like gradients and difficult medical tints.
Join us as we nerd out over the magic of lens tinting.
Preparing the Lens for Tinting
Spin Coating is applied via centrifugal force. A stream of coating is sprayed onto the back of the lens, and is spun at high speed to bring the coating to the edges of the lens. Because of the nature of this type of coating, it is often difficult to get the extra bright and bright/dark colors on lenses with defined ridges, like a flat top bifocal.
Lens Tinting Step by Step
Once the lens is prepared to receive tints, it goes through our tinting process. Tinting is not a precise process. A lens absorbs color based on multiple variables such as:
Temperature

Lens material
Prescription dye age
Dye manufacturing lot
Lens coating manufacturing lot
Despite the care we take to achieve specific tints, results are not entirely predictable. Our tinting professionals are artisans who take the time to craft the perfect combination of colors for each tint. Once a lens is tinted, we check it under 4 light sources of different warmth and verify that the transmission is +/- 2% from the sample.
Verifying Tint Color with Multiple Light Sources
Why verify under different light sources? When viewed through a single light source, a color may look identical to the tint we're trying to achieve. But, in a different light source, the color may appear completely different.
We've found comparing a tint under multiple light sources helps ensure that the color will look correct no matter the patient's lighting.
The images below show how some lenses can vary drastically when viewed through different light sources.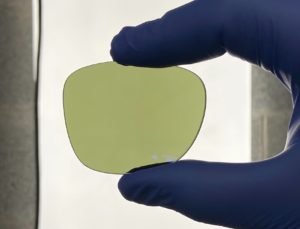 Under a single light source, lens tint color is not always accurate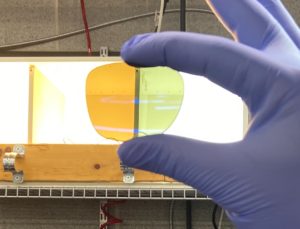 Even two light sources are not enough to properly check tint color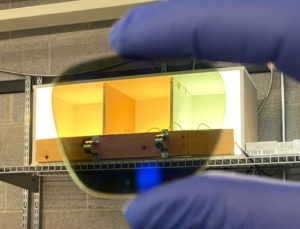 We use multiple light sources to verify a tint before sending it to patients
We've got an extensive tint library just waiting for you dive into. You can view available tints by color, condition, or company to find the exact shade for your patient's needs.
If you need any help determining the best tint, let us know. We're always happy to help. 
Ready to Get Tinted Lenses?