This page is devoted to helping doctors like you demonstrate the Peli Lens quickly and easily to determine if it will be effective for your patients. 
Because demonstrating the Peli Lens is so crucial to ensuring that your patient gets the best solution for their visual field loss, we'll cover it in some detail on this page.
Did we miss something? Do you have questions or need additional help? Please let us know. We want to get this right for you and your patients.
Using the (PEK) Peli Evaluation Kit for In-Office Demos
After assisting hundreds of doctors over the past 20 years with demonstrating and fitting the Peli Lens, we've developed a kit geared specifically toward making the demonstration process quick, easy, and effective. Our PEK (Peli Evaluation Kit) is the gold standard for showing the Peli Lens to your patients.
Using our PEK (Peli Evalution Kit) to demonstrate the Peli Lens is ideal for a few reasons:
It allows patients to experience the benefit of full-power prisms (which offer roughly double the field expansion of training prisms)
You can test either eye, making it a versatile tool no matter which side of their visual field your patient is missing
You can show your patients horizontal and oblique options quickly and easily
The information on this page assumes you have a PEK. You can learn more about the PEK and how to order it here.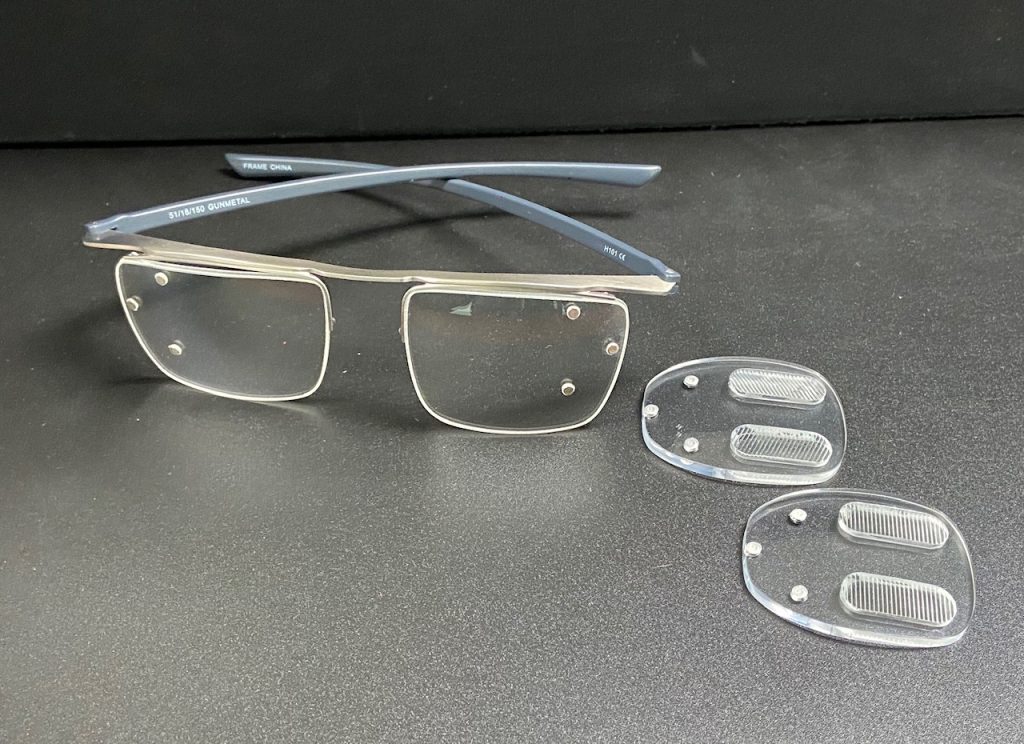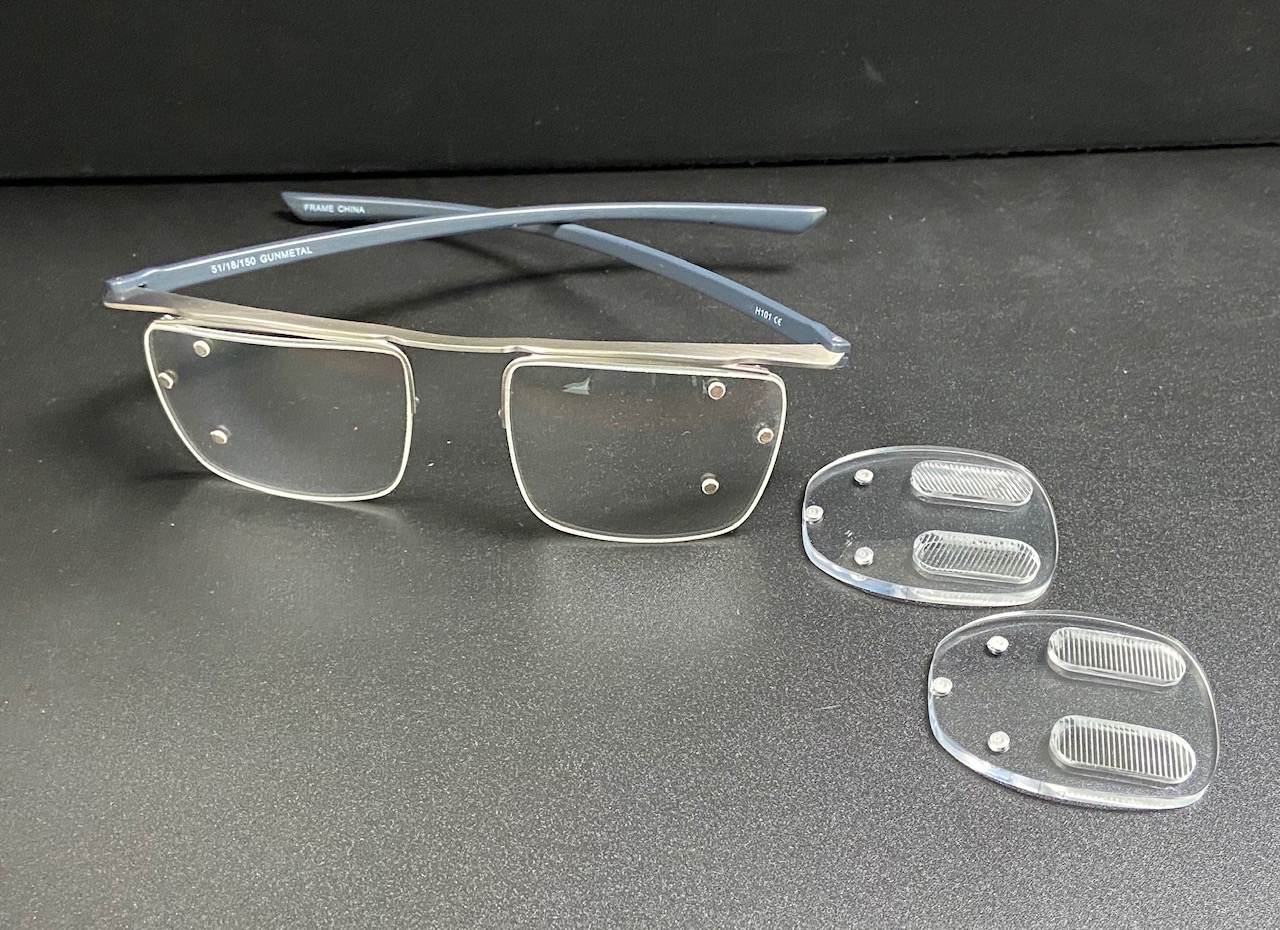 Prefer to watch instead of read? Check out our video on Demonstrating the Peli Lens.
Demonstrating without the PEK
You can still demonstrate the Peli Lens without using the PEK. While we recommend the PEK for most doctors, using this method is far better than not helping your patients get the Peli Lens at all.
Doctors will purchase our training prism kit then apply the prisms to a fitover using the included instructions.
Please note – we do not recommend putting training prisms over your patient's primary pair of glasses for either demonstrating or trialing the Peli Lens.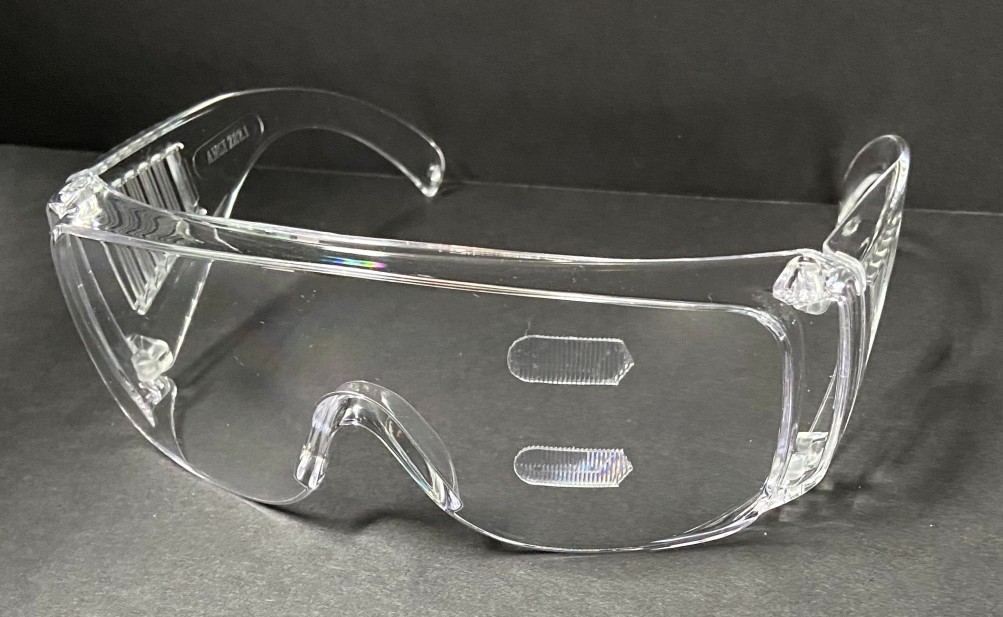 A fitover with training prisms applied
The Benefits of Training Prisms for Visual Field Loss
The Peli Lens is rooted in proven ophthalmic principles that guarantee they will bring information from a patient's blind area to the seeing area when prisms are placed correctly. While most patients will recognize the expanded field, some patients may lack the cognitive ability to recognize expanded field. 
In following with emerging best practices at stroke rehab centers, we recommend that you proceed with training prisms even if your patient does not report significant visual field expansion during the in-office demonstration. We've found that oftentimes, the loved ones of the patient may notice the subtle benefits of field expansion more than the patient does. 
The Drawbacks of Demonstrating Multiple Options
In an effort to serve patients and show them all of their options, doctors often present multiple potential hemianopia solutions during the same visit. We strongly recommend against this.
Many experienced low vision doctors have patient success rates greater than 75%, which data from the original clinical trial reinforces.
While there are numerous other types of legacy lenses intended to offer field expansion for homonymous hemianopia, we do not recommend presenting these options until you've established that the patient does not accept the Peli Lens after a 4-6 week trial using training prisms.
Demonstration Best Practices
The PEK should be worn over glasses. If your patient does not wear glasses or your patient's glasses don't allow for proper prism placement, you or the patient may need to hold the PEK fitover to position it correctly over the patient's eye.
Look at your patient at eye level. Position the lens or have the patient modify their head position so that your patient's pupil is centered vertically between the prisms.
Your patient should look between the prisms, not through them.

Test prisms with the base out on the side of the patient's temporal defect. Doing otherwise renders the effect of the prism completely useless.
Only use one magnetic lens at a time
Don't stack lenses on top of each other
Don't place one lens over each of your patient's eyes
The Peli Lens is available in two lens types:  oblique and horizontal.
Oblique prisms offer expanded field along your patient's midline. We recommend oblique prisms for driving and mobility.
Horizontal prisms offer expanded field slightly above and below your patient's midline. We recommend horizontal for mobility.
When in doubt, go with oblique prisms.
In the graphics above, the patient sees information from space A in space B.
Showing the Before and After Effect
While very useful, showing field expansion to your patient can be quite subtle.
Anybody who has ever done a refraction and has said "1 or 2" understands the  immense value of subjective assessment in vision.
Showing your patient the before and after effect of the Peli Lens using the PEK allows them to notice how the prisms pick up motion and contrast from their blind field.
It's valuable to quickly and repeatedly show the patient the difference between their normal vision, the horizontal prisms, and the oblique prisms.
Allow the patient to subjectively assess the value of the field expansion by removing and replacing the prism at least 5 separate times during the demonstration.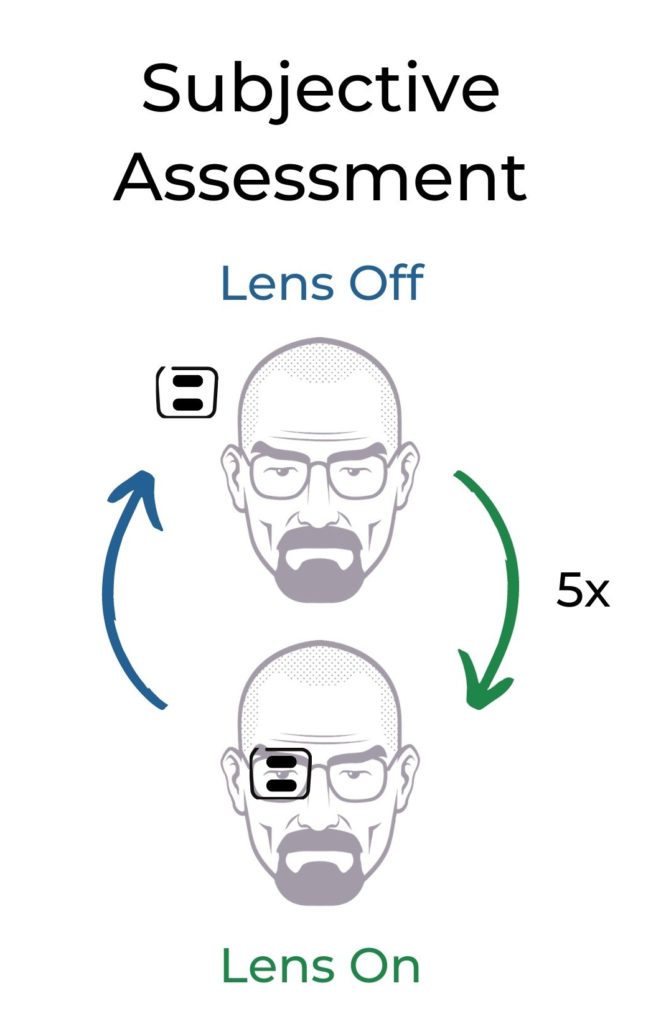 To give your patient the opportunity to experience as much motion and contrast in the prisms as possible, we recommend demonstrating the Peli Lens in multiple scenarios, such as:
Seated and standing

Walking and standing still
Indoor and outdoor
In-office and in exam lane
On stairs
Once they are fit with training prisms, your patient should continue to use them in a variety of settings, like:
In a store

Taking a walk

Indoors and outdoors

Using Stairs



The following exercises serve a two-fold purpose: first, to demonstrate the benefit of the Peli Lens to your patient in-office; and second, to show your patient how to practice with their training prisms at home. It's important that you make your patient aware of the training protocol so that they can get the most out of their trial period.
Sitting with your face parallel to your patient's, bring your fingers from the outside into their field. When they see your fingers, ask them to turn and look at them through the prism-free portion of the lens.
Repeat this exercise multiple times testing both the top and bottom prisms until your patient has a feel for how your hand appears in their visual field.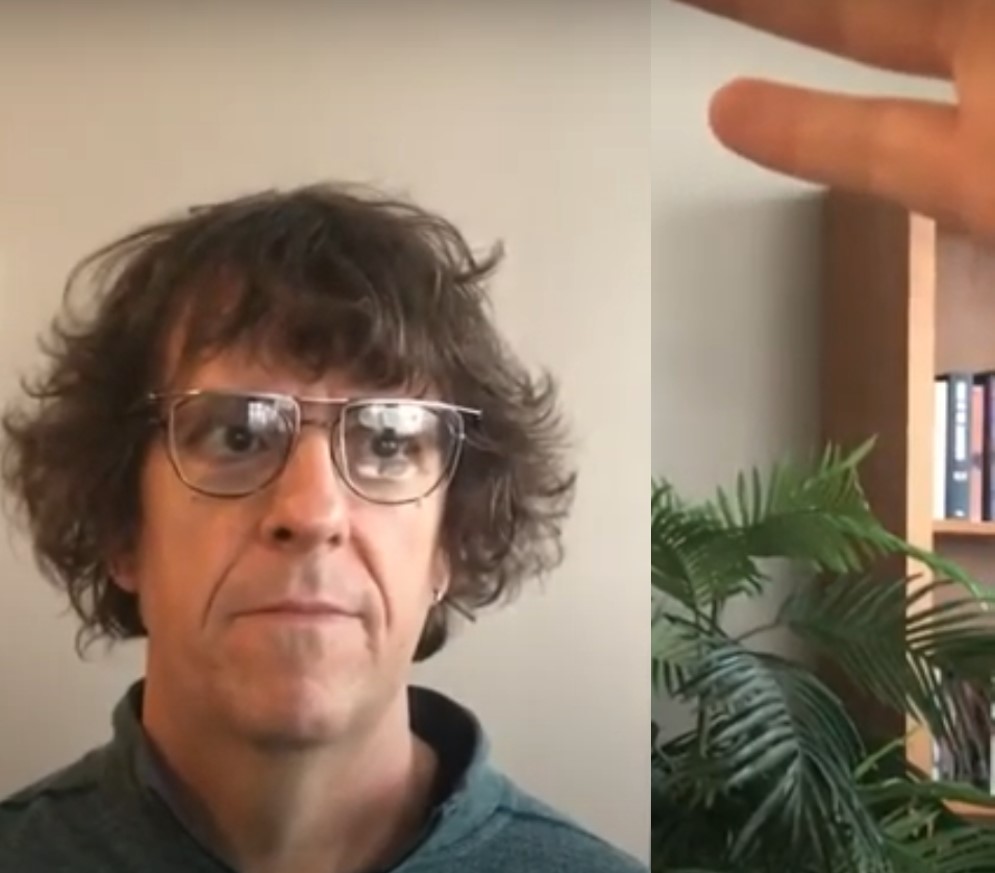 While the patient remains fixated on your nose, bring your hand into their field and instruct them to reach out and touch your hand. This helps your patient gain spatial awareness of where things are in relation to how they appear.
Repeat this exercise multiple times. 
Caution! During this step, your hand will appear superimposed above your head to your patient. It would behoove you to be aware of this to avoid getting smacked in the face.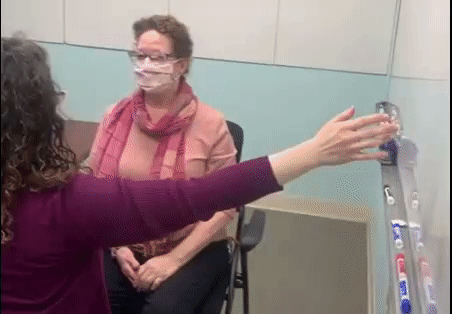 Note: We advise escorting your patient during this part of the demonstration process.
Begin with an empty hallway or clear space and allow your patient to practice walking while wearing the Peli Lens. As they become more accustomed to the prisms, move to areas with obstacles that they can practice moving around so they can learn how to navigate their surroundings while using prisms.
If possible, help your patient practice using stairs. Use handrails.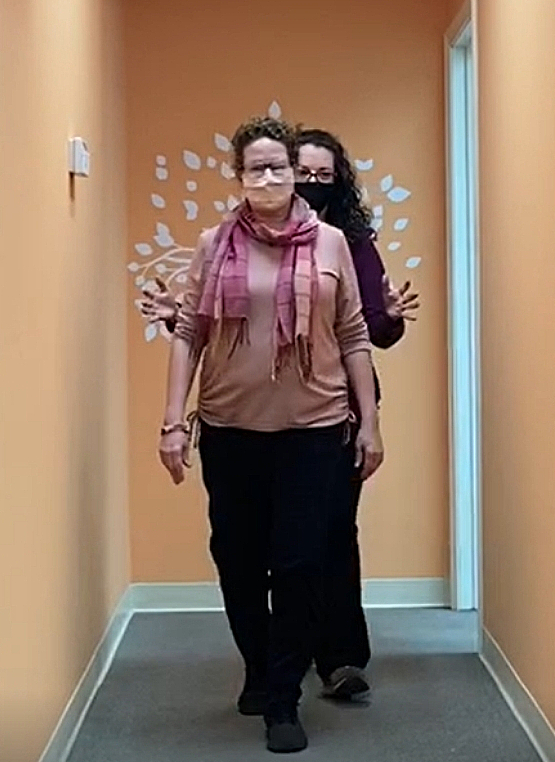 If you need advice about a specific case or just want some extra assistance, shoot us a message or give us a call. We're happy to field questions and offer offer advice on demonstrating the Peli Lens.